Walks
Put your walking shoes on and explore what nature has to offer. Australia is the land of challenge for walkers and there is a walk suitable for all Adventure Walkers.
---
Sandy Creek Circuit, The Knoll Section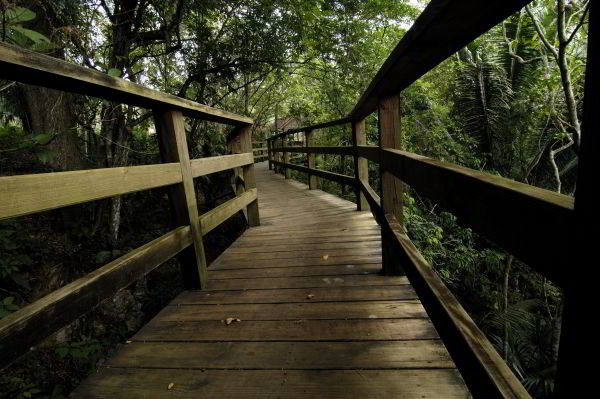 2.6km circuit (Allow 1 hour) Easy grade. Scenic views, rainforest with tall trees emerging above the surrounding canopy, piccabeen groves, transition forest with large flooded gums and open forest feature on this walk. Please remain on the designated track, as there are steep cliff edges. Supervise children carefully. There is a branch track to Cameron Falls Lookout.
Access to the start of this walk is via Main Street, North Tamborine and Knoll Road. The parking area is very small and unsuitable for large buses.
There is a picnic area near the start of the walk, in tall, open forest, with a large shelter shed and picnic table. From the northern edge of the picnic area you can enjoy views to Flinders Peak and Brisbane.
---
Witches Falls Circuit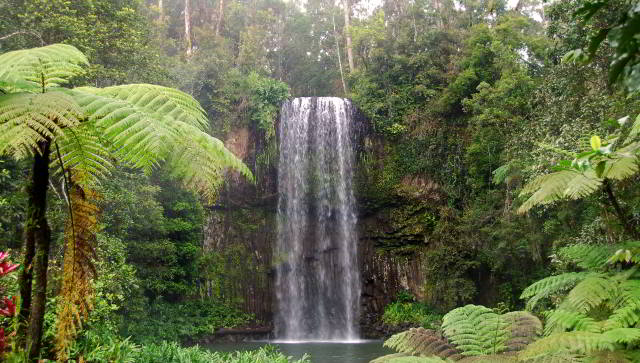 3.1km return (Allow 1 hour) Moderate grade. This track zigzags down the steep mountainside through open forest with banksia trees and into rainforest with huge strangler figs. You will pass seasonal lagoons surrounded by piccabeen palm groves and rainforest before you reach Witches Falls. After heavy rain the lagoons fill with water and come to life with many species of insects and frogs. The track returns through rainforest and behind the cemetery. The falls only flow after recent rain and can be viewed via a 200m detour from the circuit to a lookout platform.
The Witches Falls Circuit starts from the picnic area on Main Western Road. The grassy areas have electric barbecues, picnic tables and toilets, and are surrounded by tall eucalypts.
---
The Jenyns Falls Circuit
Branched off the Palm Grove circuit, is currently closed as it is considered unsafe.
(It is not marked on the map).

---
Curtis Falls, Joalah Section
1.5km return ( Allow 30 minutes) Moderate grade. Joalah is an Aboriginal word meaning "haunt of the lyrebird". The loud calls of the male Albert's lyrebird can be heard during winter. The track starts from the Dapsang Drive carpark. It is also possible to start at the shops on Eagle Heights Road, adding an extra 800m return to the walk.
On this track you will walk through rainforest and descend steep stairs to a large pool at the base of Curtis Falls. There is an impressive view of the falls and surrounding columnar basalt rockface. Swimming is prohibited at the falls. A restricted access area below Curtis Falls protects an important glow-worm colony. The track continues from the falls, along a piccabeen palm-fringed creek to a giant strangler fig. Beyond this strangler fig, the lower Joalah track is closed for your safety due to rockfalls.
---
Palm Grove Rainforest Circuit
2.6km circuit (Allow 1 hour) Easy grade. Piccabeen palm groves and rainforest with emergent strangler figs and distinctively buttressed yellow carabeens feature on this walk. Palm Grove Avenue is the main access point and carpark for this track. Parking for buses and caravans is not available.
---
Cedar Creek Falls Track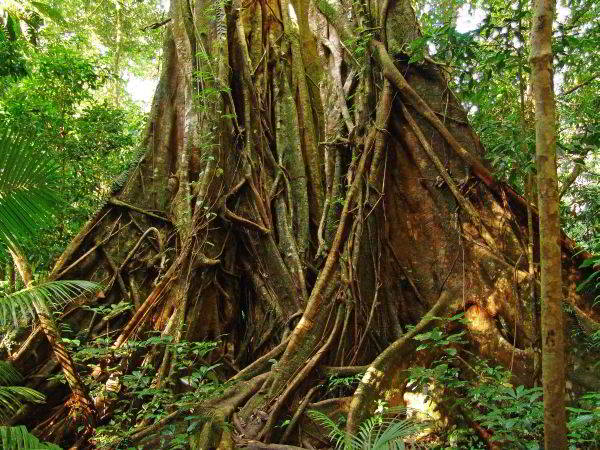 900m return to lookout, 900m return to the rock pools (Allow 20-30 minutes) Easy grade. Access to this visitor area is via Cedar Creek Road. The track to the lookout is suitable for strollers and assisted wheelchair access. The lookout offers views of waterfalls, cascades and rock pools. The section from the lookout to the rock pools is not suitable for strollers or wheelchairs. For your safety, access is not permitted to some of the rock pools and parts of the gorge, as indicated by signs on site. Near the start of the track are two picnic areas, with tables and wheelchair-accessible toilets, located in large, open, grassy areas surrounded by tall eucalypt forest.